24 Aug

HELIOCARE – Essential UVA/UVB and Anti-oxidant skin protection

Ultimate Photo and Anti-Oxidant Skin Protection
The Heliocare® ranges are clinically proven to protect your skin against daily environmental challenges and help to prevent the signs of ageing.*(Results may vary from person to person).   Each product provides high-level broad spectrum UVA and UVB protection and contains Fernblock®, a patented natural complex of powerful anti-oxidants that help to prevent damage to skin cells which appear as signs of ageing.
Heliocare® Advanced provides this protection and prevention and also acts as a moisturiser, while Heliocare's Color range adds to the UVA, UVB and anti-oxidant skin-protection by enhancing your skin's colour, tone and moisture. So it protects your skin as well as acting as a foundation and concealer for easy, everyday use.
Heliocare® 360° provides unrivalled protection from photo-damage with SPF50 broad spectrum UVA | UVB, and high-energy visible light defence.
The Heliocare 360˚ range also has powerful anti-oxidant activity with Fernblock FC; the Polypodium leucotomos extract fortified with ferulic and caffeic acid, combined with an advanced anti-ox complex of Vitamins C, E and green tea extract to help further prevent damage to the skin's natural defences. In addition, DNA repair enzymes help to protect the DNA in your skin cells – you can see why we call it the ultimate protection! Endocare CELLPRO provides the very latest clinical advances in Endocare Snail Biotechnology, derived from the scientific snail Cryptomphalus Aspersa, combined with Vitamin A skin regeneration. It's clinically proven to regenerate aged and photo-damaged skin.
Heliocare 360˚ Mineral Fluid
A breathable mineral fluid that leaves your skin feeling luxuriously silky and smooth and sits perfectly under make up. Great for all skin types.
Heliocare 360˚ Oil Free Gel
Heliocare 360˚ Oil Free Gel  is an ultra-light, mattifying gel that melts quickly into the skin leaving it dry to the touch. It's great for all skin types, but especially those with oily or combination skin.
Heliocare 360˚ Fluid Cream
Heliocare 360˚ Fluid Cream is a rich cream with an advanced moisturising complex that leaves the skin feeling soft and hydrated. Great for those with dry skin.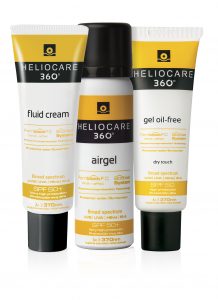 Available at York Laser Aesthetics