29 May

How the Cynosure Elite Laser can help repair sun damaged skin

Sun damaged skin is a primary skin ageing concern to many clients at York Laser Aesthetics. The effects of too much sun exposure over a prolonged period are all too evident in the photographs below.   Solar Lentignes (sun spots), fine lines and a thickening and coarsening texture to the skin are typical features of over exposure to the sun.

The images below illustrate a client's décolleté before treatment and then again eight weeks later after two treatments. The results are very effective. The remaining solar lentignes are noticeably reduced and the overall appearance is a more even skin tone.   Several more treatments may be required to achieve a further lessening in pigmentation damage.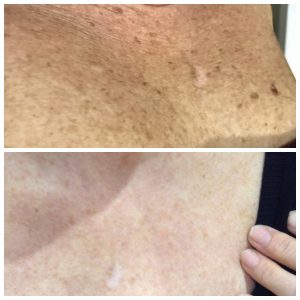 So often the hands are overlooked from being protected against over exposure to the sun, resulting in prematurely aged, weathered looking skin. The images on the left of each photos show the hands before laser treatment. The images on the right of each photograph show the dramatic improvements after two treatments.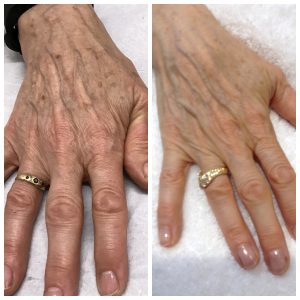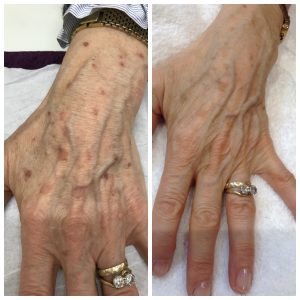 The UVB short wave ultra violet light damages the skin cells causing an increase in melanin (pigment) production as the body tries to protect itself from the damaging effects of the sun. This results in a tan.   Age spots, sun spots and freckles that lie superficially in the epidermis (the upper layers of the skin) are all treatable with the Alexandrite 755 nm laser.